Galloways Create History at Royal Highland Show, Scotland
The Galloway Cattle and Beef Marketing Association reports that Galloway cattle have won four of the five available Interbreed Trophies at the Royal Highland Show, Scotland. A feat, according to the Scotsman newspaper, "never achieved before and may never be repeated again". Over 1000 beef cattle were entered, 28 being Galloways.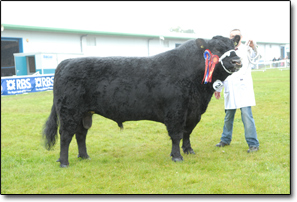 Galloway bull Blackcraig Kodiak won the Individual Overall Interbreed Trophy ahead of an Angus bull.
Galloways won the Native Breed Interbreed Trophy (three head of breeds of UK origin). Shorthorn was Reserve.
Galloways then went on to win the Team of Four Interbreed Trophy based on the individual breed champions. Simmental was Reserve.
And, finally Galloways won the Pairs (male-female) Interbreed Trophy. Limousin was Reserve.
The only Interbreed Trophy not won by Galloway was the Junior Interbreed won by a Charolais bull.
Of the winning bull, the Judge Peter Donger, understood to be a Charolais breeder, commented he had never been drawn to the Galloway breed before but then said "He's the best Galloway bull I've ever seen, he's tremendous and such a correct bull with length and a lot of style. It was that length coupled with good mobility that placed him ahead of the Aberdeen Angus in Reserve."
Of the Team of Four Trophy winners the same Judge said "the Galloway team was well balanced with totally functional cattle. That is vital for the beef industry."